***UPDATE 5-10-09***
Winner of the Outdoor Prize pack is...Stacy!
Congratulations!
*******************
Last week my kids participated in Turn Off TV Week. Note, I did not say 'family', I say my kids. I actually did not w
atch TV either. The Mister, however, cheated just about every night when the girls went up to bed. But who's counting.
I was in full support after having been part of the Subway / NIH WE CAN! effort to fight childhood obesity. Actually, it was easier than I thought,
even with one kid sick and home from school on one of the days! Here are some of the things we did that helped us survive.
We Made a mural in honor of Earth
Week
I am not a crafty gal but I do
have a large roll of white paper. I laid out about 5 feet from a roll of white paper I had in my non-crafty craft closet, grabbed the glitter glue, markers and stamps they got from the Easter Bunny, and told them to have at it while I cleaned up from dinner.
We played board games
Now that the Twofer are almost 6, they have kid versions of games that even I can get into…. Princess Monopoly
, Cranium Cadoo
, and various card games
. Yet reality is, we're playing those games on t
he floor in the family room…in front of our tv…that is turned off. Depressing. So, why not add a little gambling? Whoever loses has to empty the dishwash
er. The next person to roll a 6 has to get Mom a glass of water...you get the idea
Play-Doh anyone
For real, I can't remember the last time they just sat and played with Play-Doh. That roll of white paper came in hand again...
We made dinner together
Em was definitely into this. And has been asking every night since if she can help. We stepped it up a bit and I allowed her to do some cutting with an

actual knife

, AND crumble up the ground beef as it was cooking. But it just isn't real cooking until someone gets burned and Em wound up with burn on her tummy. Yes, her tummy. Long story, but it involves my cook top being located on an island in the kitchen and the lack of a child gua
rd that has since been put back.
Other things we did besides watch TV
Went to the library and read books.

Had friends sleep over…with no TV – yes, they were game for it!

Went shopping, ran errands, got ice cream (no TV means yes to spending money)

Took a bath! (Girls have been showering but a nice leisurely bath with lots of toys was very entertaining)

Played outside…a lot.
Which leads me to the giveaway...
I have in my hot little hands a big box filled with all kinds of outdoor toys that YOU can enter to win!
Contents Include:
Balls
Bubbles
Baseball bat game
Some kind of racquet game
Frisbee thing
Chalk
Butterfly net
A kite and
a $10.00 gift card to Subway

!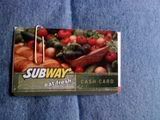 Here's what you need to do (as ALWAYS, separate comment for each!)

1. Leave a comment telling me your favorite "No-more-TV-today!" activity
2. Tweet this post (click on '30 sec ago' for the link)
3. Email a link to this post to 5 friends and cc me (scarytwins [at] yahoo)
4. Grab my button and put it on your site (leave link)
5. Do 10 squats, 3 Hail Mary's and pat yourself on the back (just making sure you're paying attention)
6. Blog about this topic and include link to this post



Contest ends Wednesday, May 6, 2009 at 11:59 pm!



Doing my squats,
Janine

Thanks to Subway for providing the great outdoor prize pack!